We Want You to Have the Best ID Photo
We know that there is nothing worse than having your passport or visa application rejected because of a poor passport photo. In today's world applications for passports, driving licences, visas and so on, need us to provide photos that comply with very specific criteria. The criteria for official photos vary from country to country. If your application is rejected because of a photo that does not meet the criteria of the specific country you will have to re-apply which will cost you both time and money. Therefore getting the ID photo right first time is absolutely crucial.
We provide a high quality passport photography service without the requirement for an appointment. We have a dedicated area to take your ID photo.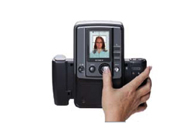 We use the latest Sony technology to insure that your ID photograph meets the requirements of the specific country you require. The camera has the ability to automatically adjust the position of your face so that it fits within the frame correctly. The camera is also able to automatically ensure the photo has the right:
exposure
bio-metrics
geometry
sharpness
contrast